FC Barcelona were crowned La Liga Champions at the Vicente Calderon with a 1-0 victory over defending La Liga Champions.
Lionel Messi scored the sole goal of the match, putting them four points ahead of Real Madrid with one game to spare.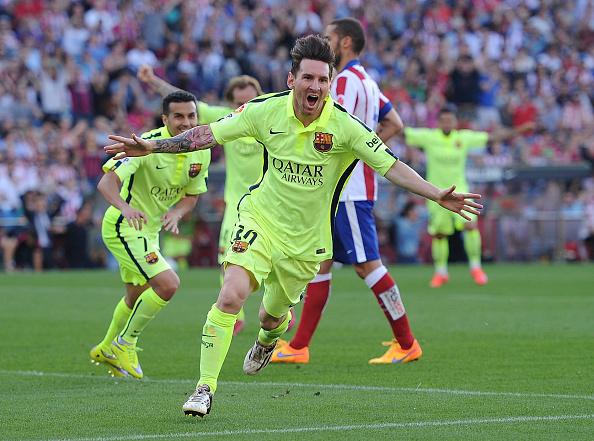 It had to be at the Vicente Calderon; there is no better place to seal this title. A failure here wouldn't have been colossal as we would have got another chance against relegation threatened Deportivo La Coruna at home. But then the team cannot have let this chance go. Last season Atletico Madrid sealed their La Liga title at our home; this season we gave it back in kind. Last season Lionel Messi had a legitimate winner ruled offside but this season he never gave them any chance. The goal he made and finished was so beautiful that it should have won us the League on its own. The equations at the start of the match was clear - We Win, we seal the title or else we get another chance at the Camp Nou. Real Madrid needed a victory to stay in the title hunt, and they got one with a Ronaldo hat-trick but then it didn't matter at all. It's quite surprising that after spending almost half a billion dollars on transfer market from the onset of Guardiola era, Real Madrid has only won one League title; exactly same as their cross-twon rivals, Atletico Madrid. For Barcelona and Luis Enrique, this League title was quite a turn around from the troubles they were in at the winter break. La Liga title was a long gone hope then, the team was crumbling and Enrique, if rumours have to be believed was one match away from sack. Now he and his boys have orchestrated one of the greatest turn-around for this club and is on-course for yet another treble.
Now it's nonsensical to write that we had a tough match away at Atletico Madrid. What else can we expect in teh Bullring of Vicente Calderon? The chances were at a premium and those created came mostly courtesy of that little Argentinian wizard. Luis Saurez missed on the starting eleven due to the hamstring injury he picked up against Bayern Munich. The presence of such a physical and agile center forward was essential in keeping the Atletico defense occupied; and there were some nerves regarding how his replacement Pedro will cope. Surprisingly Pedro coped really well, he offset what he lacked physically with movement and workmanship. He made sure that Messi always had one person in front of him to play and create space for the attack. Aletico started as expected full on pressure forcing a brilliant one hand save from Bravo in the 8th minute from a corner. Was that a sign of things to come? Hardly! Because that was the only clear chance they had for the entire match. Our defense may have struggled against them, but made sure that they never came close to scoring for the rest of the match.
FC Barcelona players reacted very quickly to the early pressure applied by the home team. It wasn't surprising that most of the pressure from our side came via Lionel Messi despite Atletico Madrid players taking a particular liking for his legs. He was getting kicked all over the place; but then it felt he also expected that. So every kick he upped the ante a bit. In the 12th minute Messi fired his first shot at goal unfortunately he hit straight at the keeper, Oblak. The very next time he tested the keeper again this time from a header from an Alves cross but again he placed it near Oblak. He almost made amends for those two misses with another header from the other Brazilian Neymar wrong footing the keeper with the header unfortunately it was blocked by Juanfran with his arm; but then as usual the referee, the idiot named Alberto Undiano thought it was pretty legitimate to handle a goal bound header. Then the players never made a big thing out of it, they were prepared to win this despite the opposition or the referees.
Before the half Alves tested Oblak again forcing him to make a wonderful save to maintain the scoreline at 0-0 going into the break. The second half started within slow pace with no team pushing heavily. Then by the hour mark, the news of Real Madrid going ahead at Barcelona trickled in and that seemed to have instigated the team once again. The response for Ronaldo's goal came soon via Messi. Messi received the ball just outside the box, played it to Pedro who held it back and placed it once again back to Messi who in between at least four defenders produced a feather like first touch and finished on to the far corner. Messi wasn't done with that goal. That goal put our fate firmly on our hand. Then in the 71st minute Messi unselfishly put Neymar through on goal just to see the Brazilian aim for the sky. One wondered whether we would be left to rue for that missed chance. But the team wasn't ready to give Atletico an inch and clinched the title without any fuss. And boy! it tasted sweet!
All About FC Barcelona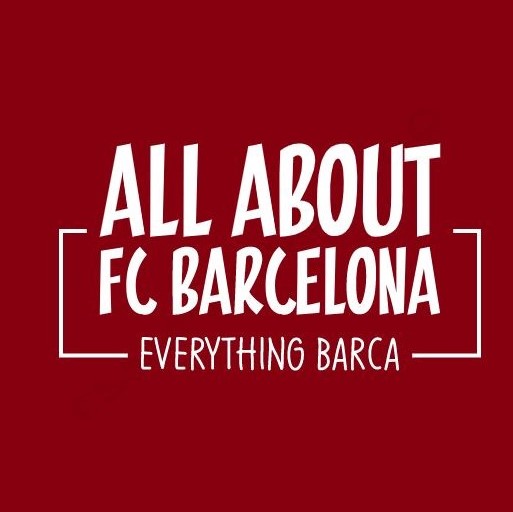 AllAboutFCBarcelona.com is a Blog dedicated to the Most prestigous Club in the world, FC Barcelona by an ardent fan. Here I discuss about the Latest happening surrounding our Club and present my Views about the same.