"One Game to Rule them All"
Finally it has come to this, just one game! That will decide the fate of La Liga. Who would have thought it would come to this? At the start of the season, it has only been a battle between Real Madrid and FC Barcelona like it always have been for all these years. Now at the end of the season, Real Madrid has been replaced by the other side of the capital. No one expected Ateltico to continue like this, they had to break down at some point. There was no way they could continue to play their brand of football till the end of the season; only problem was that someone forgot to tell that to them. Mean while, Barcelona's case was also similar but also different at the same time. No one expected them to be here, the league within their reach and one win away. Barca has time and again raised their hands to surrender, but was literally dragged back into the ring. How many times we all have thought to ourselves that it's all over, just to see the dream still intact the very next morning. It's that kind of season, and when it's over we all will be relieved.
The permutations and combinations the League threw at was enormous. It was like the League was playing with the emotions of every set of fans. And mind you it didn't start at the very fag end. Throughout the season it was like that. The start we had, the chase Atletico did to keep up with us, the debacles of Real Madrid at the start of the season gave a sense of Real Madrid struggling to keep up with us and Atletico. Can't blame the fans, by the half way mark Real Madrid were six points behind Atetico and Barca, they simply couldn't overcome that. We thought so. Soon they were leading both Barca and Atletico and the swap happened so quick and fast that it surprised even the Real Madrid fans. As far as Atletico's season were concerned, there was a sense of disbelief attached to it. They simply shouldn't and couldn't have done this. Everyone expected them to break at some point, every week we said to ourselves that they will break the next week. But that next week still hasn't come. This week would be a nice time for that!
So the equations are pretty clear, no scope for any confusion! It's a final, with a twist for us. The twist is that our opponent, Atletico doesn't have to effectively win it to seize the League, they just have to make sure that they don't lose. For us, it's pretty simple - "The Winner takes it all". Any victory will do, doesn't matter whether it's a 4-0 or a 5-0 or a 3-2 or 1-0 or 2-1; It simply doesn't matter, we just have to score at least one goal more than what Atletico managed. That precisely is a problem for us. Scoring goals and that too more than what the opposition is scoring. And the other problem is that Atletico may not be scoring too many goals nowadays, but then they are conceded very few also. Luckily for us they have failed to win their last two matches and have conceded three times in those. But then that's precisely the reason why we are still in this battle. Or one could argue that Willy Caballero's right arm is the actual reason.
If Atletico's form has been patchy coming into this match, then ours isn't any great either. We also failed to win against our last two opponents. Atletico at least for the sake of arguing failed against Levante and Malaga, traditionally teams that could trouble you. Our failure came against the team's fighting for their lives in the league. Nothing has much changed this week also, it's yet another team that is fighting for the league. The only difference is that tomorrow's opponent is not fighting to survive in the league, but to grab it from us. This is a very tense match, but Barca fans are extremely thankful that their worst fear - handing the league to Real Madrid while beating Atletico Madrid at Camp Nou has been removed from the equation. Now it's simple - just beat Atletico Madrid at the Camp Nou.
Without any doubt Atletico has the upper hand going into this match. They are three points clear of us, don't have to force the matter, that exactly fits their playing style. But then Camp Nou is a different arena. Barca players have gone through a lot this season - the loss of one of their loved ones, the constant attack within and outside the club etc. Now how this season will end up will be decided by a single night in the Camp Nou, probably a single magical moment or a single individual performance. They have to simply win. They may be out of form, sync, tired; it doesn't matter. They may have failed to win against Atletico five times this season, but doesn't matter. They need to find a way to win this.
It's not clear how Martino will line-up the defense.There are reports of Pique being rushed out of rehabilitation for the final match of the season. Spain's coach Del Bosque could be very angry if that happens. Every player has been included in the squad - Pinto, Oier, Alves, Montoya, Bartra, Pique, Mascherano, Puyol*, Adriano, Alba, Busquets, Song, Xavi, Dos Santos*, Sergi Roberto, Cesc, Iniesta, Afellay, Cuenca, Pedro, Alexis, Messi, Neymar and Tello. Pique, Neymar and Alba all who have been struggling with fitness have been given the green light and most probably would play. The defense could see Mascherano and Pique joining hands with Alba and Alves infront of Pinto. The midfield should see Cesc, Busquets and Xavi. With Neymar, Iniesta and Messi up front. This has been Martino's go to line-up all this season and expect no change to it.
Regardless of all the advantages Atletico have, it's not going to be easy. First will be the atmosphere in Camp Nou. They may have visited Camp Nou two times already and a numerous times in earlier seasons but this one would be different. Camp Nou faithfuls would be knowing clearly that their boys need their help to win it and the 12th man would be ready in their finest form. The second and the most important factor would be the fear. Atletico did so well to lead the league coming into the last game. But it would all be gone to waste if they lose tomorrow at the Camp Nou. It may sound silly, but for a team who have waited 18 season's for this moment, the fear of losing it would be enormous. We have already seen Liverpool's 23 years wait been extended after Gerard threw away the chance to win the League. That fear will rule supreme regardless of Atletico player's mental toughness. It is essential we exploit that from the start and the fate of tomorrow's match will depend purely on that.
All About FC Barcelona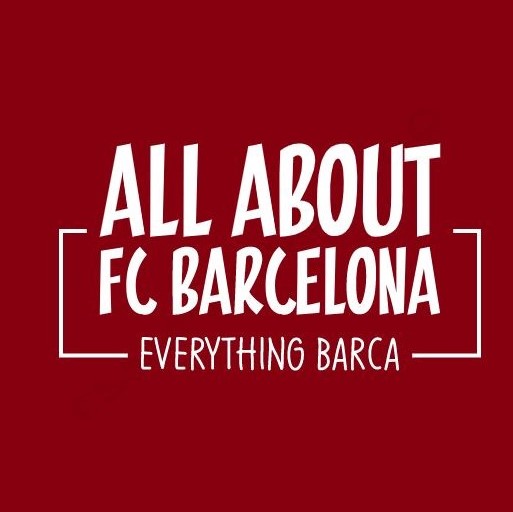 AllAboutFCBarcelona.com is a Blog dedicated to the Most prestigous Club in the world, FC Barcelona by an ardent fan. Here I discuss about the Latest happening surrounding our Club and present my Views about the same.