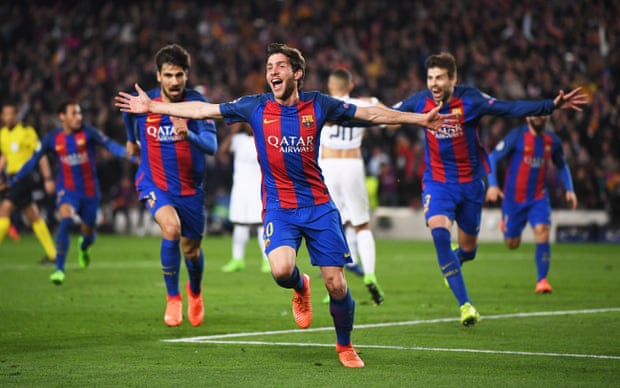 - Barca Players surrounding Sergi Roberto after scoring Winner -
A dream doesn't become reality through magic; it takes sweat, determination and hard work. Colin Powell
This was the night of fairy tale stuff at the Camp Nou. FC Barcelona players staged the greatest comeback in European Cup Competition history to overturn a 4-0 first leg deficit to PSG. They had to do it twice in the same night; they almost did it in the first hour of the match and when all hopes were ending they did it all again in the last eight minutes. This night was all of hope and determination. We started with hope; then it turned to expectation just after half time when the scoreline read 3-0; soon it turned to despair when Cavani scored the all important away goal. But the players never stopped believing; they regained hope soon after and with three minutes of normal time left and needing three goals they exactly did that; against all odds!
This night will go down in the history of Club as one of the greatest. Many opposition fans have already tried to be-little this great comeback claiming it was more of PSG capitulation. I dare to ask them, Can you name a single club who could even dream of making a come-back after going down 4-0 in first leg. That's why this club would be remains the "Greatest Football Club in the World" and we all are witnessing the continuation of the Golden Generation. Sergio Roberto scripted history with the 94th minute strike; to an extent that moment would have come as a relief for his after what he had to go through following the defeat at Paris. He was tormented that night and in a nice twist of fate he could put the last signature on the outcome of tie. It was so easy for him to blast that effort high; but he remained calm and completed a memorable night for the Club.
Luis Enrique had preferred a 3-4-3 formation in recent matches and lined-up with the same formation in this one too. So we had Ter Stegan in goal, Mascherano, Umtiti and Pique formed the three man defense. The midfield diamond had Busquets, Iniesta, Rakitic with Messi on top of diamond. Then we had Neymar, Saurez and Rafinha up front. The selection of Rafinha baffled especially he was playing the role of the winger. I would have gone for him if the idea was to use him at the top of midfield diamond. But here Enrique was using him as a pure winger and that role suited Adra Turan better; which we saw when he was brought in in second half. From the beginning Barca pressing was enormous; our defense were parked almost in PSG half; that would have been a risky strategy but our players were getting on to all the lose balls.
Because of the four goal lead, Unai Emery lined-up PSG in an ultra-defensive 4-5-1 formation. That in the end would lead to his and his team down fall! At almost all the time we had almost 9 PSG players in and around the box. The first goal came in the 3rd minute a huge scrappy affair. With almost 10 opposition players in box, scrappy goals were expected. PSG defense failed to clear the ball and it lobbed towards Saurez who jumped diverting the ball towards the goal past a hesitant keeper. That goal completely changed the tempo and we were camping in PSG box for the next one hour PSG never had a sniff but they were defending brilliantly. Chances were at premium - Messi saw his free kick going a wide off post and then we had Neymar trying his luck from outside. Both were close but not close enough. Then from nowhere towards the end of half, Iniesta produced his magic not with skill but with sheer determination. He chased down a lose ball past Marquinhos and then produced a back flick from touch line which created panic in PSG defense and Kurzawa attempted clearance/whack ended in his own net.
Early in the second half the game swung massively in Barca's favour when Thomas Meunier tipped over Neymar in box. Lionel Messi took the spot kick and made it 3-0 with a thumping finish. Suddenly the impossible looked more than possible. That goal shook PSG's belief and Emery immediately brought in Angel Di Maria. Introduction of Maria saw PSG pressing further up and suddenly the pressure was on all Barca. Then in the 62nd minute Barca defense switched for a moment and was made to pay a huge price when Cavani sent a thumping finish past Ter Stegan to make score 3-1. Suddenly Barca needed to score three more to progress. The enormity of the task was daunting on the players and you could see a lot of despair in Barca players in the next five minutes.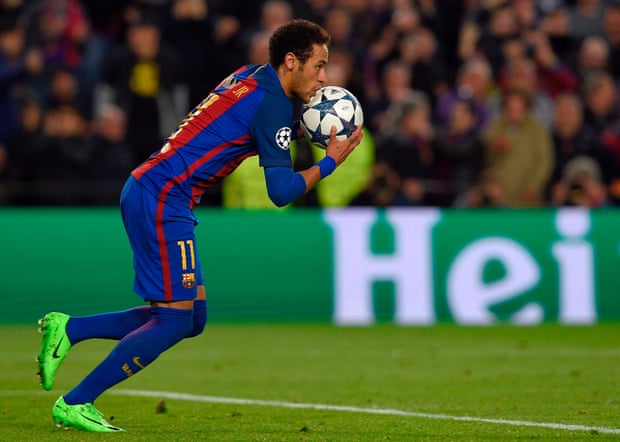 - Neymar Celebrating scoring against PSG at Camp Nou -
But this team was not ready to give up, slowly they were trying again for the impossible. Half chances were there for Turan and Messi, but both failed to take it. Then in the 87th minute the game started turning completely on his head - Aurier brought Neymar down on the left side of the box and Neymar scored from the resulting free kick. The keeper was at fault for that goal as he misjudged the trajectory and was beaten at his near post. Then in the last minute of normal time Messi sent in a cross from half line into box, putting Saurez in goal and he was brought down by the defender giving Barca the penalty. Neymar scored from the spot to make it 5-1 and 5-5 in aggregate. Then came the magical moment when substitute Sergi Roberto latched on to a exceptional ball from Neymar making the score 6-1 and taking Barca into the next round.
All About FC Barcelona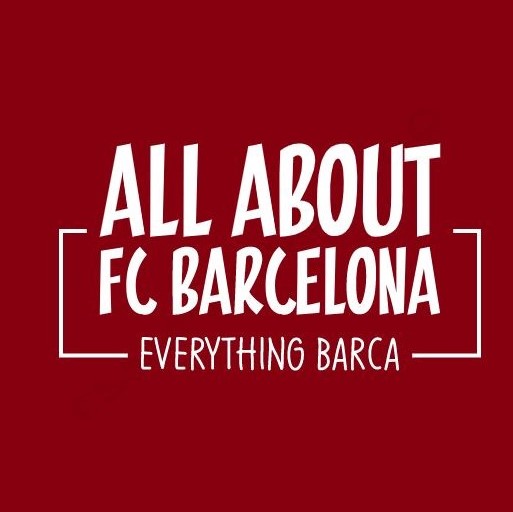 AllAboutFCBarcelona.com is a Blog dedicated to the Most prestigous Club in the world, FC Barcelona by an ardent fan. Here I discuss about the Latest happening surrounding our Club and present my Views about the same.