Last night was "The Night" - One to remember for time to come, One we will be proud to have watched happening, One which gave a real answer to nay-sayers and the haters who said that "The Era was Over". But for all those who love to watch football at it beautiful best, last night was all about joy and pleasure. They say the "Barcelona of the Old was back" and they were right. We were playing like we did during the prime time under Guardiola. Actually we were playing better than that when you consider the tactical innovation that happened in the match and also the pressure we were under going into this match. Surely we had the luck going our way, had that Niang scored before our second goal, thing could have been tensed. But to argue that this side wouldn't have reacted to that was ridiculous. Our boys and management would have taken that into account and looked absolutely ready to score four goals in the night, if necessary. And to the nay-sayers , who conveniently forget the fact that we should had a clear cut penalty and the sending off Abate way before that event, I have only one things to say - time to get out of your fantasy world. The enormity of task was overwhelming. Let's see how hard it was - first we had to score at least three goals and that too without conceding, that has to be done by a team which struggled to score recently and conceded goals just for fun in every match, also this has to be done against a team which is going to sit back and counter(Barca's problem all the time). That was huge task and we did that with beauty and grace. From one step out of the Champions league we are back as firm favorites.
You Can't Shut Down the Haters
Following the reaction of people who hate Barca(mostly Real, Milan fans and the ones who hate tiki-taka football) one may have to accept the fact that they are never going to accept this Barca side's greatness. Two weeks ago they were all over the place, praising Milan players tactics, pressing and effectiveness in the first leg; and they were right. But when Barca produce a magisterial performance like last night they suddenly realised how bad this Milan side is. The same side which neutralized us without any difficulty suddenly became a just an average side. They will point out how Niang missed the chance to score, but the same guys will keep quiet about Van Persie's two crucial miss at the Bernebeu or anything like that. When we said that the team was playing good against Deportivo, they struck back saying it was just Deportivo & reminded us Milan was a completely different proportion. they tend to forget that when this side press like the way they only know, they could convert the best in the World to just like Deportivo(no disrespect there). They already are back with claims of "Let's see how they do against Real Madrid or Bayern Munich". Let them say that. If this team play like the way they did with similar tactic no team can take them lightly and no challenge is beyond them. But don't expect the haters will ever understand. Last night showed one thing - that the recent crisis of Barca was all their own making and that aided other teams to exploit and make the best use of it. The fixation to False-9 and having Cesc in a role which was naturally Iniesta's was the major reason for our struggle.
Tito and Roura Got everything Right tactically
This was a night after a long time we saw Barca roaring like a lion, maybe like a wounded lion. The issues with the tactics were clear from the first leg against Milan. Actually the issues with the false-9 and how teams could neutralize us was exposed when we visited Sevilla earlier in La Liga. But we didn't heed to those warning. At San Siro those issues came out to make us really impotent in attack. We saw the solution against coincidentally again Sevilla with a 2-1 victory.But surprisingly we went back to the false-9 tactic in the double header against Real Madrid. So everyone had their eyes on the starting line-up for last night. I have to agree that when I saw a line-up of Valdes, Alves, Mascherano, Pique, Alba, Busquets, Xavi, Iniesta, Pedro, Messi and Villa, I went mad. I thought we are going back to the usual false-9 formation which could be easily neutralized by Milan. But I was proven wrong when the match started. We started in an almost 3-3-3-1 formation. The fact that Villa was playing ahead of Messi, made so much space for him to exploit. In the first leg whenever Messi got past the midfield then he was easily closed by the center backs. That was not to be this time. The center back were pinged back by Villa who was actually playing as a center forward. To make matters worse, Pedro, Villa and Messi were switching their position rapidly and it was reminiscent of our strengths of last two years. The availability of Alves in an advanced position on the right was a brilliant tactic which negated Milan's tactic of staying compact and narrow through the middle. But we tried similar thing against Chelsea last year and that had some problem. We definitely learned from that. And this time we stuck to three man defense for all the time. Alba was told to stay back and he may have forgotten at sometimes but for most of the time we did well. This performance showed how we could deal with defenses which is trying to stay back and narrow. If we get Abidal fit and on form on the left, then we could have more stability in defense.
In the end of the day this was as Ray Hudson would say a "Magisterial Performance". The 2-0 defeat in the first leg complicated the entire situation. even with a 3-0 lead we were just a goal away from going out. Puyol who came in for Mascherano looked seriously confused with such a scenario. But in the end everything worked fine. The require task was to win by three goals, we bettered that by scoring one more. And to better that all we had our second clean sheet on a trot. This performance also showed why it would be better to stick to this tactic than the false-9 when playing in Europe.
All About FC Barcelona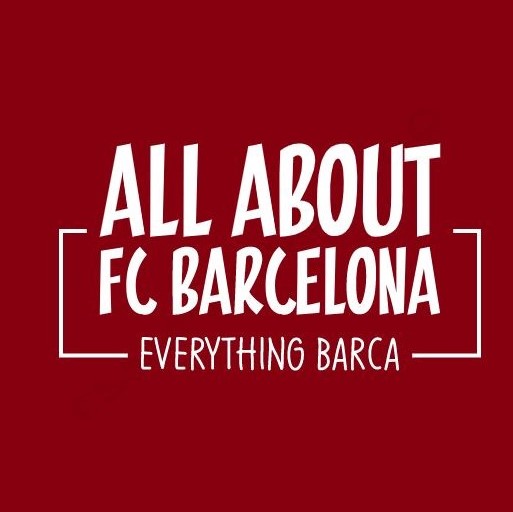 AllAboutFCBarcelona.com is a Blog dedicated to the Most prestigous Club in the world, FC Barcelona by an ardent fan. Here I discuss about the Latest happening surrounding our Club and present my Views about the same.